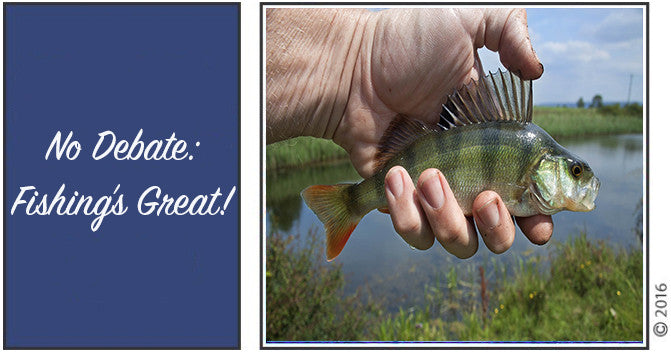 The debates have certainly kindled the argumentative fires within our culture. There are two sides to every story and the people on one half of an issue just won't listen to the other. Fall versus Winter, fly versus spin…
I was speaking about the many disagreements between angling enthusiasts regarding what kind of fishing is best, what kind of equipment is ideal for that variety of fishing, and furthermore what time of year is the best for doing it. What did you think I was talking about?
At the request of my "political advisors" (mainly my wife Patty), I'll try to avoid taking a stance on any of these "important issues" within the hobby. I will note, however, if you're just entering the hobby, then spin fishing is probably the best option for you. Although the techniques and equipment for spin fishing can be explored just as deeply, fly fishing more often involves fighting feistier species in faster water. And squatting over a hole in the ice during freezing temperatures isn't the easiest place to learn your first knot.
If you do prefer the latter forms of fishing, we've got the TYEPRO Fly & Ice for you. If you're just beginning, we've got the Original TYEPRO. And, this month, we've got a lot more you might be interested in.
Check out our Free Fishing Giveaway, which you can enter by clicking the button at the bottom of the page. Just enter your first name and Email address and you'll be entered to win a fishing gear prize package worth more than $250. There's no better way to kickstart a tackle collection.
The prizes include a Field & Stream tackle bag, hooks, lures, and tackle from companies such as Berkley, Eagle Claw and more. And, of course, our own TYEPRO tool and a T-shirt to match.
Of course, no one says you need to be a rookie angler to take advantage. After all, the TYEPRO was also designed for experienced fishing enthusiasts who are struggling with knot-tying as a result of declining vision or shaky hands. If you're a member of the latter demographic, maybe you're also in need of a tackle box overhaul. Here's your opportunity!
There's plenty to argue about within the world of fishing...but a metaphorical boatload of free equipment is not one of them. Everyone's invited and everyone should be excited. Click below to enter, and then check out the rest of the TYEPRO blog to learn tips on how to use them.
Thanks,