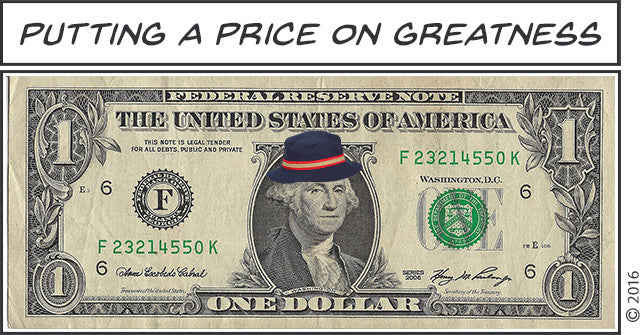 I can usually sleep at night, looking at the reviews for TYEPRO products. My customers have provided over 900 five-star reviews for our products, and that seems like a satisfactory total to me, a small businessman from Ohio who runs his fishing "empire" from his home office.
And, when I do get a complaint, more often than not it has something to do with the price of my product. People look at the $21.99 price tag on the TYEPRO and decide that, unless it's made of gold (or at least stainless steel), it's overpriced.
As much as I aim to please, these complaints still grant me sleep at night, as I know that my prices are rational. I admit, however—after my Boilermakers have lost another football game—I sometimes feel the urge to boil over. To prevent that, I offer you this post: an explanation of what you're paying for when you buy a TYEPRO. For the sake of transparency, you at least deserve to see that I'm not paying daily dimes to child labor.
Where to start?
First, there are the pitfalls that come with running your own—emphasis-on-small—business. There's a reason why the IKEAs of the world can offer some products at ridiculously low prices. They're a huge, international company, and they make a lot of product to be shipped worldwide. Simply put, the more you make of anything, the lower the cost to make it. Shipping is another part of this equation. The cost-per-tool is much lower for sending 100 TYEPROs than to ship one at a time.  
My individual customers, ordering online: I love you and I appreciate your business. But it costs about $3 in postage to send one tool. The USPS allows me to package 50 tools in a single, $6.10 flat-rate box. You can see where the savings show up in bulk shipments.
There are other costs—from maintaining a website to marketing campaigns, to credit card fees and taxes—but I don't want to focus on these. There's one cost that all customers should take note of.
Look at the TYEPRO, or at a friend's TYEPRO. See if you can find the name of the nation where it was assembled.
If you guessed "The United States of America," you came across the correct answer. We're proud that TYEPRO tool components are manufactured and assembled in the United States, mostly in Ohio. There's a lot that's been said about sending jobs overseas during the recent election, and I'm not trying to win any public position. Again, it just helps me sleep well knowing that I can help keep my countrymen employed, especially in a part of the nation that can use the jobs.
Using quality, ethical labor and using quality materials comes with a cost. The TYEPRO may not be made out of stainless steel as some critics might propose, but that was intentional to provide key tool performance features offered by the plastics chosen. I didn't freelance the engineering to a by-the-hour freelancer. I used my engineering degree and the best design firm I could find in Ohio to refine this concept into a simple and efficient tool.
"So what?" my more cynical readers might say. "That's a nice story but I just want a cheap tool."
Do you care more about price or value? There's a difference. If you answered "price," then you are certainly justified in questioning the TYEPRO, or just opting for other products. That's your choice. If you prefer value, I believe the TYEPRO is for you, regardless about whether you measure that value in the enjoyment that a few extra bass brings you on a nice morning, or the actual monetary value one places on extra food brought home for dinner.
Cheap tools come with cheap experiences. Those passionate for music buy better stereos to enjoy it by. Gearheads buy sports cars for their driving experiences. The best golfers play Titleist because they know they'll get better action.
But this is only $21.99. I would never pay $700 for a set of speakers. Now that is something that would keep me up at night.